The three main elements of a healthy roofing system are
INSULATION VENTILATION INSTALLATION
If all three are done correctly, you will be warm and protected for years!
insulation
In a poorly insulated home, a quarter of your heat is lost through the roof. Insulating your attic is a simple and effective way to reduce your heating bill. Roof insulation can save you money in energy costs and also guarantee any warranty for the shingles on your house.
Many assume that roof insulation insulates a house from the cold. This is just a small part of what insulation accomplishes. More than the cold, the heat really does most of the damage if your attic isn't properly insulated.
Proper insulation protects your ENTIRE house from moisture damage. This damage can easily cost you thousands in repairs due to damp attic spaces, ice damming, rotting roof decks and framework, including loss of heat from living areas escaping into the attic areas.
ventilation
Proper ventilation of the attic is essential in gaining the maximum life out of the roof and improving the home's heating and cooling costs. Insufficient ventilation under the roof deck may cause various problems on the roof, including ice dams, the roof deck's movement, ridging in the shingles, roof leaks, mould accumulation, and premature ageing of the shingles. It is vital that the combination of insulation and ventilation be properly determined and that the products used be installed correctly.
J.O.N. Roofing Ltd works closely with an independent local 
company specializing in soffit, vent and 
eavestroughs.  Together we are highly effective 
and guarantee that your roof and insulation are up 
to the current standards and above code.
installation
The way the insulation is installed plays a large role in its effectiveness. Blocked soffit vents will severely reduce airflow.
J.O.N. Roofing Ltd uses BP Weather-Tite Technology shingles, which deliver the highest performance in the roughest weather. Featuring two high-tech adhesive bands, this breakthrough, patented hurricane-resistant technology offers superior protection with the added-value of an enhanced wind warranty. It's the ultimate leak protection that guarantees you peace of mind.
Call J.O.N Roofing Ltd for an estimate for insulating your attic properly. We have years of experience and only use the best products to upgrade your insulation to the required level.
Removal of Snow and Ice Dams
Ice dams are a bigger risk than roof collapses due to snow load.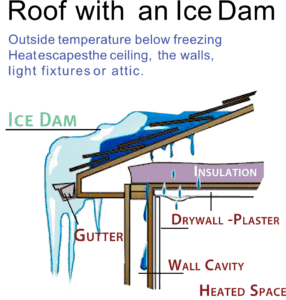 The cause of ice dams is sometimes difficult to pinpoint
An ice dam only needs a tiny bit of snow to form on your roof.  An ice dam can form with as little as an inch of snow or even less. We've seen ice dams form when there's no visible snow on any major part of the roof.
Why?  Because Old Man Winter loves to pile snow in the spots you can't see from the ground – especially drifted snow in roof valleys and areas where your roof meets an exterior wall.  Eventually, those drifts can melt, trickle-down, hit the overhangs and/or valleys, and slowly form an ice dam.
Ice dams
can occur on homes that appear to be well insulated 
and ventilated.
The following conditions can also cause ice dams.
A poor attic insulation system or thermal boundary, allows heat to escape into the unheated attic space.
Most ice dam formations are easy to eliminate by properly ventilating and insulating to R-49.
Exterior electrical heat cables do not prevent an ice dam from occurring. They are a reactive measure that does not address the cause of the ice dam formation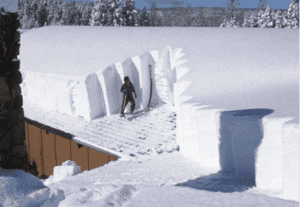 When should you remove the snow of your roof?
If you're not sure what kind of snow load your roof can take, you can always call J.O.N. Roofing. James and or Phil will take a close look and advice you on what is best and safe. We service Commercial and Residential buildings.
 It can be tempting to remove ice dams yourself. You're probably thinking: "It's no big deal. As long as I don't fall off the roof." 
We really don't recommend it! Removing ice dams or the snow yourself can cause damage to your roof and other exterior features and put you in a dangerous position. We carry liability insurance and offer discounts when you get your neighbours to sign up.
We offer rooftop snow removal as a winter maintenance package or for one-time visits. We know how to best approach your snow load or ice problems while caring for the newly installed roofing materials. Therefore Our Workmanship Warranty mandates that J.O.N. Roofing Ltd must do the rooftop snow removal for us to honour the Workmanship Warranty for your roof.
Understanding a manufacturer's warranty can be a daunting task.
Your decision to contract any installer should be tempered with the best warranty information available regarding the materials proposed to be used by an installer. Shingle manufacturer companies offer a wide variety of warranties.
Understanding what they offer is paramount to having the most comprehensive coverage possible.
J.O.N. Roofing Ltd. exclusively uses Building Products of Canada's products.
As their Certified Installer, ONLY we may offer a no quibble, total replacement warranty based on the actual claim date's costs for up to 50 years.  This warranty is transferable to a new owner for up to 20 years. To qualify for this warranty, your home must meet specific attic ventilation standards set out by Building Products of Canada. J.O.N. Roofing Ltd. will inspect your home to ensure these standards exist and propose solutions should they not exist.
The limited lifetime standard warranty will have an upfront total coverage for up to  20 years for replacement, depending on preexisting limitations.  After the upfront period's expiration, the warranty will be prorated until the owner no longer possesses ownership.
A commercially owned building will have a different option of warranty.
The manufacturer of the metal roof sets out the warranty on the metal roof product.
Typically, your quote for a metal roof from J.O.N. Roofing will be based on products procured from our local associate at Community Metal. For warranty information, you may click on their link below. Potential clients may procure metal products from a supplier of their choice. Warranty information should be researched from that supplier.
J.O.N. Roofing Ltd. will work with our clients to aid in helping you comprehend the above.
However, it is ultimately the responsibility of all persons to research BP Canada or any alternative supplier's available information.