Welcome to J.O.N. Roofing 
 Operating as Phillip & Sons Roofing. 
our services
We are the leading roofing company in the Annapolis Valley
Jon Roofing has proudly transferred its ownership to the longtime trusted foreman, Phillip Ells. 
J.O.N. Roofing, now operating as Phillip & Sons Roofing specializes in quality inspections, advice and installation of residential and commercial roofing systems in the Annapolis Valley. We only use the best products, which are backed by BP lifetime and extended warranties. J.O.N. Roofing is backed by Building Products of Canada.
J.O.N. Roofing is quick to respond to inquiries and emergencies. Maintenance and Prevention are the key ingredients to a long-lasting roof.

J.O.N Roofing is locally owned and has recently transferred ownership to Phillip & Sons Roofing.
We continue to operate and strive to update and train staff on all aspects of roofing, including safety, equipment and the latest technology on installation and ventilation.
J.O.N Roofing has a long-standing relationship with the community and works alongside his permanent staff, providing you with the best advice possible.
Our website is designed to provide our customers with as much information as possible about roofing products and services.
information & advice
We believe that information is vital, so please inform yourself or call us for more details!
We are happy to spend time and explain.
Doing it right the first time will save time and money in the long run!
metal or shingles
We have been in business since 2011. Our employees have years of experience, and we never use any subcontractors to get the job done.
certified
This means that if any damages or mistakes happen under our guidance, you can rest easy that you'll be protected. In collaboration with Allen's Home Hardware,  financing may be available for your project!
GET THE FACTS!
CALL FOR A FREE INSPECTION.

DO IT RIGHT THE FIRST TIME!
We are a BP certified and insured installer serving the Annapolis Valley. Whatever your roofing needs, large or small, you need a professional roofing contractor you can trust. 
At  J.O.N. Roofing, we offer free quotes and NO COST inspections of your roofing system for both residential and commercial roofing projects, repairs, and roof maintenance. You may request such online or call us to get the facts.
At the first sign of any roofing problems, you should call J.O.N Roofing. They are best qualified to advise you of your next step to resolve any problems that may occur from a damaged roof or poor ventilation.
J.O.N. ROOFING – Phillip & Sons Roofing –  SPECIALIZES IN:
Quality roof installation with the best BP backed warranted products 

available.

Ice dam removal and control, preventing interior damages.

Snow removal, without damage to your shingles.

Roof inspection and advice on damage control and life expectancy of your existing roofing.

Assessing adequate ventilation into the attic, which will ensure longer life of your shingles and prevent mould buildup.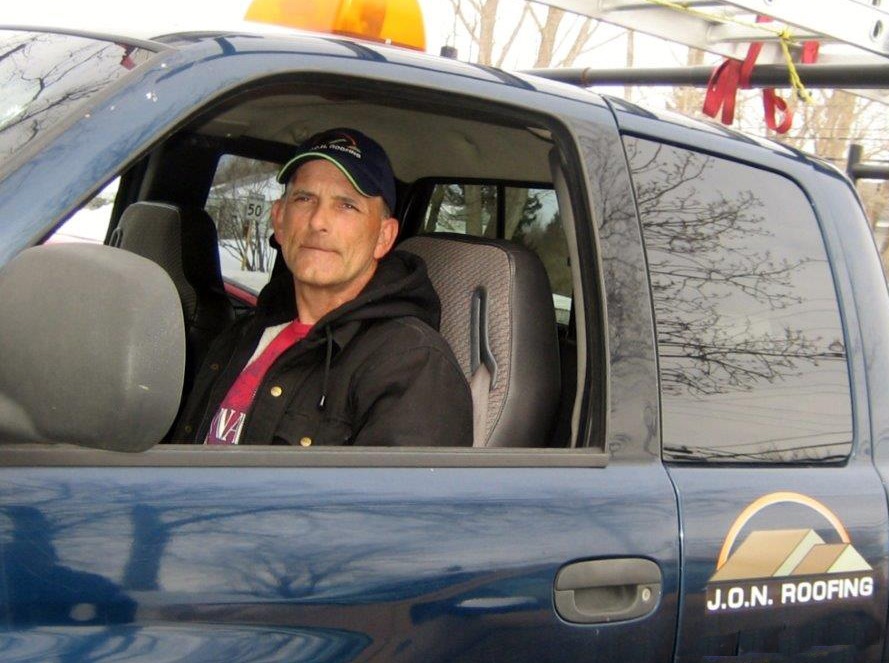 Phillip & Sons Roofing, current owner of JON Roofing
"If I were to use one word to describe the people at J.O.N. Roofing it would be "PROFESSIONAL". They did a beautiful job on my roof in just a few days. They answered any questions I had and corrected any problems they found. The job site was continuously cleaned up, and on completion, the property was left exactly the way they found it. I can't say enough good about this company and would highly recommend them to anyone who needs roof repair/replacement. "
Happy Clients
A very pleasant experience,
I learned a lot from James!
Thanks.
" James, from J.O.N. Roofing pointed out that the roofer, whom had done my roof 2 years ago, had forgotten to properly sheet my roof before installing the new shingles. This means, that despite the fact that I had chosen the best product (35 Year warranty), I have no warranty due to the wrong installation and use of material. So much for giving a young chap, a starting businessman, the job. And the nails I found in the yard afterwards……… Just not funny! No wonder I can't get a hold of him any more! But with James his help we have found a solution for my ice dam problem!"
" it has been a real pleasure having your company replace the roofing on our house. The crew were pleasant and very professional, keeping me up to date on their progress and ensuring all safety standards were met. The yard was kept neat and clean through out the job and when they finished up there was absolutely no evidence of garbage or old roofing martial to be found and the roof looks fantastic. I will certainly be advising my friends that require roofing repairs to contact J.O.N. Roofing. Please feel free to use my name as a reference for any would be customers who would like to see the quality of workmanship or ask me any questions concerning this job.
A job well done, thank you. "
Shingles or Metal 
We have the experience to do it right the first time